Wells Fargo Arena | Des Moines, IA
Are you one of the dedicated fans who missed getting tickets for the highly-anticipated concert of the Eagles? Worry no more and Take It Easy as the legendary band just recently announced additional dates for their North American Tour. And good news to Des Moines fans because the multi-Grammy award-winning band will stop at Wells Fargo Arena on November 17, Thursday. The Rock and Roll Hall of Fame inductees will bring their Hotel California Tour to Iowa's famous venue and are slated to perform the entirety of their ground-breaking 1976 album. Apart from the tracks from the album, they will also perform some of their greatest hits, such as "Best of My Love," "One of these Nights," "Lyin' Eyes," "Peaceful Easy Feeling," and many others. Don't miss this opportunity to catch the band performing live! Get your tickets now before they run out.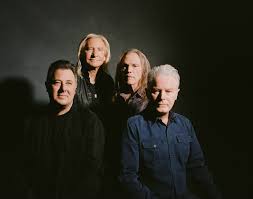 The 70s rock band scene would have never flourished as it is today without The Eagles. The band, known for the classic "Hotel California," has ridden the waves of an evolving rock music scene from the 60 to the 70s. Their formula has worked, and they are basking in the warm lights of being one of the best rock bands that have ever played in the history of music.
Don Henley (drums, vocals), Bernie Leadon (guitars, vocals), and Randy Meisner (bass guitar, vocals) make up the founding members of the band. They were formed as a backing band of former singer Linda Ronsdandt in 1971. Their camaraderie somehow worked as they started to work separately, releasing the album "Eagles" in 1972. The album instantly produced two top 20 singles: "Take It Easy" and "Witchy Woman." They became a mainstream band after the release of the album "Their Greatest Hits (1971–1975)" in 1976. This hyped the subsequent album "Hotel California," released the same year. Their most recognizable song, "Hotel California," was its biggest hit. Many people have pondered the meaning of its ambiguous lyrics, and it continues to mesmerize new and old listeners.
Their mastery of music and lyrics has given them six Grammy awards, five American music awards, and multiple platinum and gold certifications. Their best achievement was being inducted into the Rock and Roll Hall of Fame in 1998.
The legendary rock band is still unstoppable, performing worldwide and playing their songs of legacy. The Eagles will be rocking at Wells Fargo Arena in Des Moines, Iowa, on Thursday, November 17. See them live by reserving tickets now!